Postcard of the month - #39 - August 2003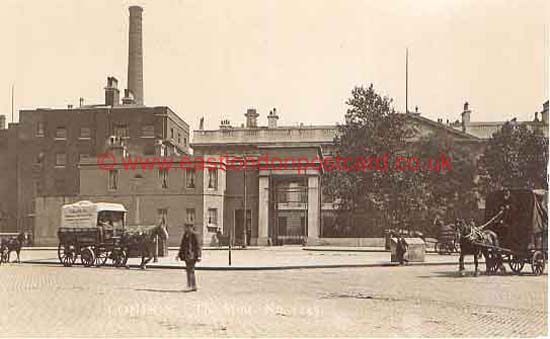 The Royal Mint c.1920
The Royal Mint was moved from the Tower of London to a new site on Tower Hill in 1811. Ever since the Tower of London had been built coins of the realm, medals, seals and decorations had been minted there. Now for the next 150 years they would be made at the new Georgian mint on Tower Hill.

The Royal Mint had been built on the site of the Cistercian Abbey of Eastminster, St Mary Graces, founded by Edward III in 1350. At the dissolution of the monastery by Henry VIII, the land became crown land. The Abbey was demolished and Henry VIII used the land to build a Victualling Yard to supply his expanding Royal Navy. On the site were erected storehouses and bakeries for the baking of biscuits. At the beginning of the 19th century, all these building were demolished, just as the Abbey had been under Henry VIII.

In 1967 the Royal Mint on Tower Hill was closed and the mint moved to South Wales. After nearly 900 years, the minting of coins in the East End came to an end. In the 1980s an office development was constructed on part of the site, but the imposing Georgian Offices of the Royal Mint were preserved and converted into modern offices. During archological investigations of the site parts of St Mary Graces were discovered and these were preserved under the office development.
click link to other 'Postcard of the Month' pages

Legal notice follows:
All contents of this Web Site are copyright © 1999 - 2004 eastlondonpostcard.co.uk. All rights reserved.
No portion of this Web Site may be reproduced in any form, or by any means, without prior written permission from: eastlondonpostcard
go back to the top of this page