Victoria Park, known locally as 'Vicky Park' is affectionately remembered by those who spent childhood days playing games, listening to bands, feeding the ducks and animals, attending fetes, exhibitions and rallies, and just enjoying the unique open spaces and wonderful trees and flowers.

With the growth of the docks during the first half of the last century, and the subsequent spread of industralisation in Poplar and Stepney, an urgent need for a park to provide respite from epidemics which arose due this rapid expansion was apparent.

The idea for an East End Park was greeted with enthusiasm from 1839, but it was some time before money and a site was agreed. Despite it's boundaries being undefined it unofficailly opened in 1843 due to local people fed up waiting.

Victoria park was first under the care of the Metropolitan Board of Works, then transferring to the London County Council, and then the Greater London Council. Since that time it has undergone many transformations and exists now within the boundary and sole control of the London Borough of Tower Hamlets. It lives on today with the same affection as before.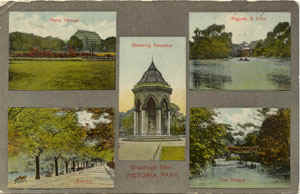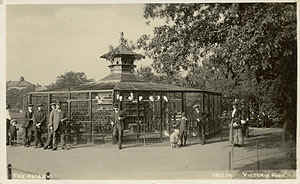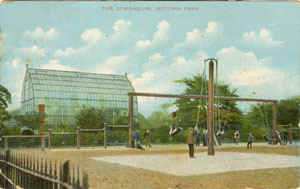 Island Gardens, Cubitt Town - known locally as 'Scrap Iron Park'

It was set aside as an open space in 1849, to provide some respite from the excessive growth of industrial development on the Isle of Dogs opposite Greenwich Hospital. The Island Gardens were formally opened by Will Crooks on 3rd August 1895.

Since then, although the main planting - which includes plane trees, holy, almond, flowering cherry and thorn - has matured well, the gardens have lost a good deal of their late-victorian flavour. Above all, they no longer provide a striking contrast to mean stretts, factories and wharves.